Overview
Welcome to the Law Faculty of the Kadir Has University
The existence of fair and democratic rules and regulations and the principle of the supremacy of the law are essential to the concept of the rule of law. The preservation and maintenance of the principles of law depend primarily on providing students with adequate and qualified legal education. Today's world requires highly qualified lawyers equipped with a sufficient degree of communication skills in foreign languages and who will practice law in a way to best realize a just and democratic society. The Faculty of Law at Kadir Has University inaugurated its program of legal education in the academic year of 2003-2004.
Relevant to one of its prominent goals to have internationally qualified law graduates, the Faculty of Law at Kadir Has University provides students with a wide range of English-medium courses. Before the beginning of undergraduate law education, students are required to take and pass an English proficiency exam to determine their English proficiency level. Students lacking sufficient language skills are required to attend general English education at the English Preparatory School. In addition, students must attend professional English courses in every semester of their legal education. With the latter, students not only reinforce and improve the English language skills they have acquired at the Preparatory School but also achieve a satisfactory and competent level for using the English language in their professional lives.
Kadir Has University's Law Faculty offers, at its campus at the center of Istanbul, well-equipped classrooms, computer labs, and a well-stocked library, and also employ distinguished faculty members from a variety of backgrounds. Academic advisors are specialists in their subjects and assist students assigned to them in the improvement of their knowledge and development of their skills.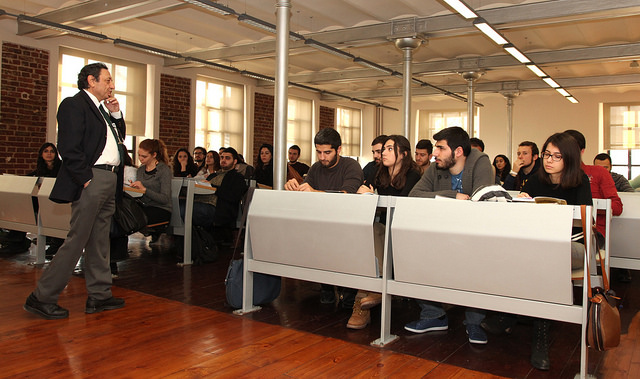 In our faculty, undergraduate courses provide education via theoretical courses which are coupled with practical studies in order to provide students with professional skills. In today's world, globalization strongly influences legal systems. Accordingly, Kadir Has University's Law Faculty curricula have been revised in accordance with the needs and demands of new legal developments in a changing world. The English medium courses, such as Comparative Legal Systems, Human Rights Law, European Union Law, International Law, etc., have the aim of engendering an understanding of other legal systems as well as comparing and contrasting a variety of legal principles, values, beliefs, and institutions belonging to different legal cultures. Hereby, the goal is to train young jurists to make them aware of innovations and progress in the world of law.
Kadir Has University's Law Faculty has exchange programs with prominent law schools in prestigious European universities within the Socrates-Erasmus Program of the EU and continues to have contacts at national and international levels so as to provide students with the opportunity to study abroad. In this context, research projects and visits are organized, and students are regularly informed about studies in foreign countries, exchange programs, national and international panels, symposiums, conferences, and seminars.
Program Outline
Under construction
Admission Requirements
The minimum High School Certificate score requirement for students applying to undergraduate programs is 60% (out of 100%).
To see the list of High School Diploma admission criteria, please click here.
Documents to be submitted while filling online application form:
Copy of your Passport with a personal information page on it. If you don't have a valid international passport at the time of application, please upload a copy of your national ID.
Copy of an official document signifying successful completion of high school diploma in many countries (if it is not in English or Turkish, it must be translated)
Copy of an official high school transcript national or internationally recognized test results or provisional results if not available by the time of submission.
Copy of English language proficiency test results if available.
Copy of Equivalency Certificate of High School diploma (Denklik),
1 Reference letter
Motivation letter
English Language Proficiency for Undergraduate Students
The following examination results are accepted by Kadir Has University:
TOEFL-IBT min. 78, 2 years valid (Kadir Has University institutional code is 7524). If taking in Turkey, the testing center has to be at the State Turkish University.
CAE min. C, 3 years valid
CPE min. C, 3 years valid
PTE Academic min. 60, 2 years valid
Alternatively, students can attend the KHAS English Proficiency exam prior to registration to University. Students who cannot demonstrate sufficient English proficiency must attend the KHAS English Preparatory Program for a minimum of 1 year before they can start their undergraduate program.
Student Visa
Your country is set to: Benin
Benin country is not on the exempt country list for Turkey visa, so Turkey visa is REQUIRED
Type of Visa: e-Tourist Visa 30 days, Single-Entry.
2. How To Apply Turkey Online Visa For Benin Citizens
You can apply for the visa if you meet each and every one of the conditions listed below
traveling for the purposes of tourism or business.
have a valid Supporting Document (Valid visa OR valid residence permit from one of the Schengen Countries, USA, UK or Ireland). E-visas are not accepted as supporting documents.
have a round-trip ticket with Turkish Airlines, Pegasus Airlines, Onur Air or Atlasglobal Airlines.
hold a passport valid for at least 6 months from the date intend to enter Turkey.
hold a return ticket, hotel reservation, and at least 50 $ per day of stay.
Otherwise, you can apply for a regular visa at Turkey Embassy in Benin.
3. Turkey visa Fee For Benin Citizens
To apply for a visa online, you have to pay two (02) kinds of Visa Fee, which were called Service Fee and Government Fee.